You may have read the phrase "Platelet Rich Plasma Injections" somewhere, but it didn't stick in your brain. Understandable. A lot of stuff flies by every hour on the internet. Or a friend recommended it to you when she saw you limping around and suggested you give these a try.
Give this Health Tip a three minute read and you may be very pleased with what you learn.
QUICK INTRODUCTION: PLATELET RICH PLASMA INJECTIONS (PRP) HAS BEEN PROVEN TO HELP WITH CHRONIC JOINT PAIN, HAIR LOSS, AND TROUBLES WITH YOUR VAGINA
NO KIDDING
Platelets are one of the white cells circulating in your blood. Their day-to-day usefulness is to help your blood clot when you cut yourself. But decades ago, it was discovered that platelets also contained certain chemicals (growth factors, cytokines) that triggered healing of injured tissue like tendons, ligaments, cartilage. Injected into your scalp, they could also grow hair (really!). Into your vagina, could tighten its muscles (really!!). Using these chemicals therapeutically gave rise to the term Regenerative Medicine.
The PRP injections work best when you use your own platelets. First, our PRP Nurse Specialist, Rachael Feliz, will draw off a tube of your blood and spin it down in a centrifuge to layer out its separate components. She will then extract the thin layer of concentrated platelets and inject these through a very tiny needle into whatever area needs work (your knee, elbow, scalp, vagina).
The first PRP joint injections began in the 1970's, a welcome addition to cortisone injections, which could provide temporary relief but never triggered actual healing. Cortisone was followed by hyaluronic acid injections (Synvisc and a dozen other brands). Both cortisone and hyaluronic acid injections provided only temporary relief, usually only a holding pattern on your way to surgery. And, of course, orthopedic surgery itself did not come with any guarantees of success.
Unlike cortisone, which reduces inflammation, or hyaluronic acid, which injects a synthetic joint padding, PRP actually triggers rebuilding within the arthritic joint (remember: "regenerative medicine"). Patient satisfaction statistics are excellent: According to NIH data 78% of patients undergoing PRP treatment were able to enjoy normal lives and avoid surgery with additional injections sometimes needed at 8 month intervals.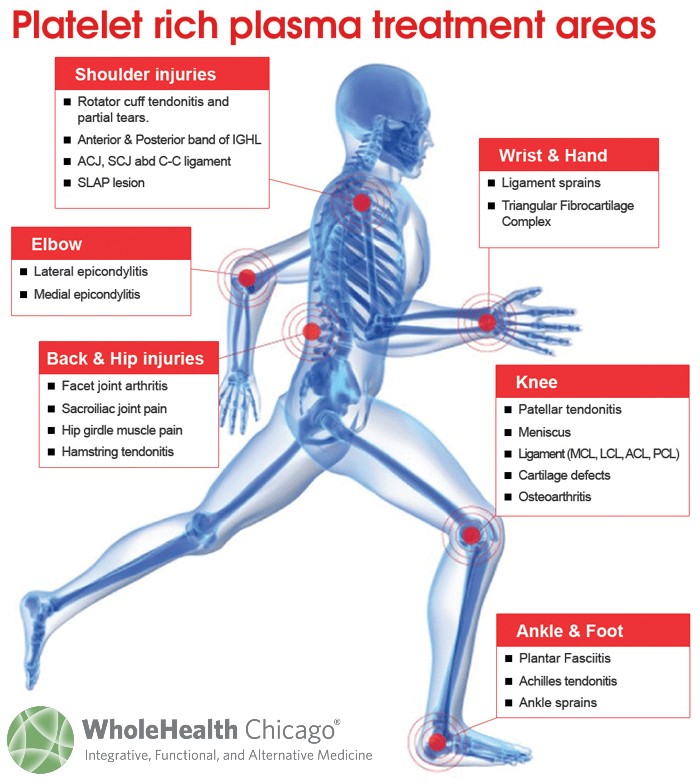 The commonest areas of treatment are:
Shoulder arthritis or rotator cuff injuries,
Disk degeneration in the low back,
One very important point: Rachael does her PRP injection under ultrasound guidance. I mention this having observed far too often orthopedic 'assembly line' practices where injections are done without such guidance, the doctor relying on his "experience" (quotes deliberate and ironic), success rate definitely lower.
I myself am a major fan of "before and after" treatment x-rays, and to me these are pretty dramatic. This is a patient of my associate, Dr. Caley Scott, who suffered from painful knee arthritis. Look carefully at the rough edges and the narrow joint space between the top and bottom bone on the right. Now look at the second picture after three PRP injections 6 weeks later.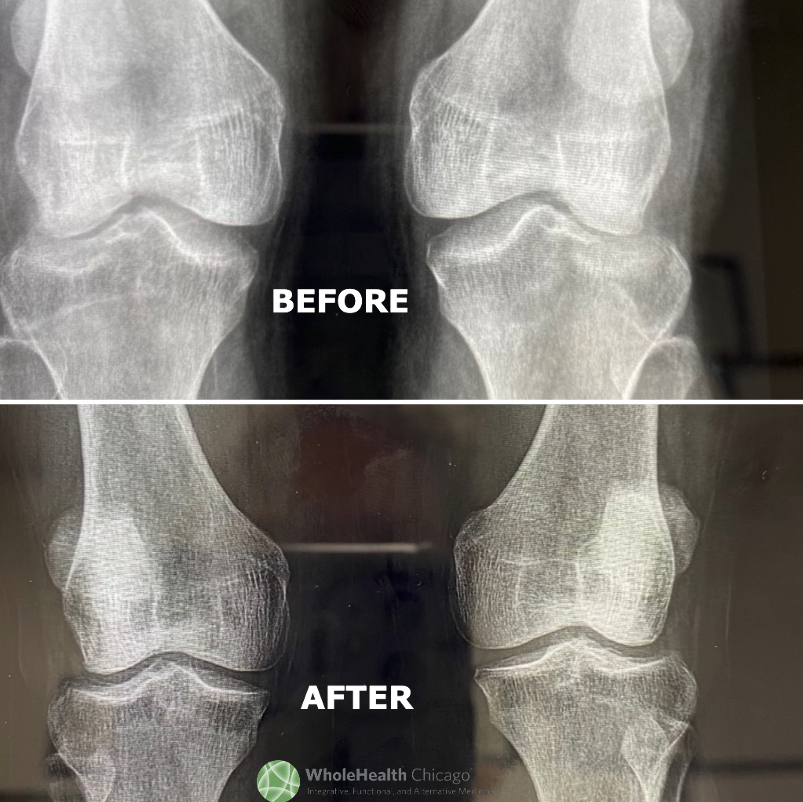 NOW, ONTO YOUR HAIR.
Your blood runs cold when you, then your hair stylist remark about your 'thinning hair' or your 'patches of hair loss'. You're generally prescribed cortisone (cream or injection) and or Minoxidil which generally get 'so-so' reviews from patients. Remembering that PRP is "regenerating" your scalp rather than suppressing inflammation, across the board, PRP gets higher "satisfaction' reviews. Again, look at the pictures.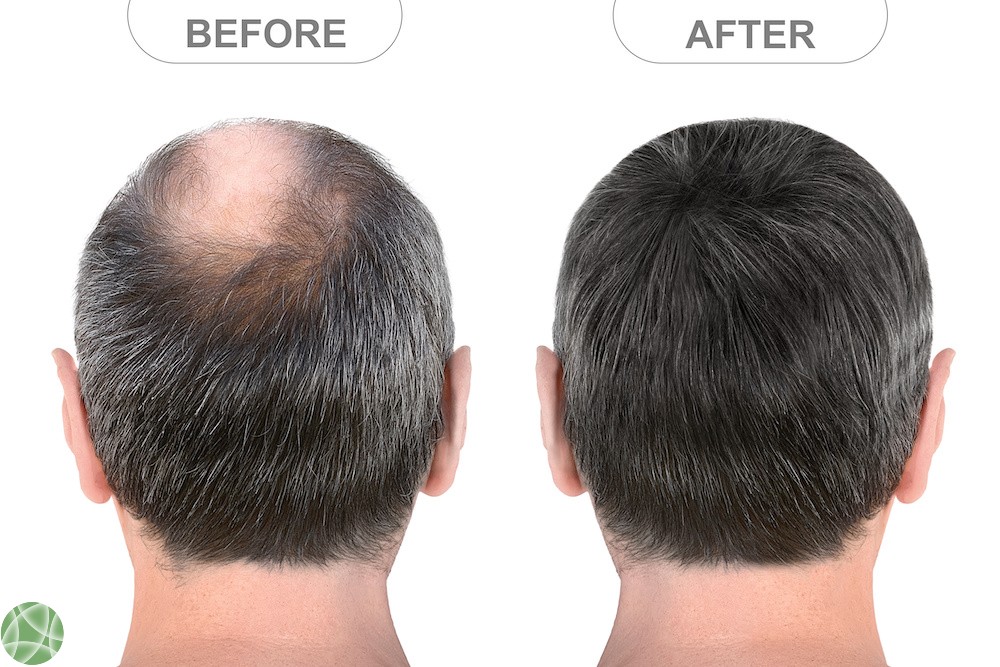 LASTLY, YOUR VAGINA! (Sorry, no before/after photos)
You laugh or cough and a little urine leaks out, forcing you to rush to the bathroom to clean up. Sex is painful, the lubricants aren't working, so now you're avoiding sex altogether. You keep getting vaginal infections. You're losing touch with your sensuality.
If any of this sounds familiar to you, you might benefit by scheduling with Rachael for a treatment called the PRP V-Shot. It is a non-surgical, minimally-invasive office treatment that uses regenerative medicine to revitalize and rejuvenate the vaginal walls, vulva, and labia.
When PRP is injected into your vaginal area, symptoms such as dyspareunia (painful sex), dryness, frequent infections, and urinary incontinence diminish. Women who have had the V-Shot report dramatic improvements in sex drive, arousal, sensitivity, and the ability to have orgasms.
Even after decades, health insurance companies regard PRP as "experimental", so it is not covered by insurance. Orthopedic and hair injections are $500 for each session; the vaginal rejuvenation is a single visit $1500.
Hope this has been useful for you.
Be well,
David Edelberg, MD